Hotel Ilinden
Welcome in the heart of city of Strumica, which is the most robust and cordial place in Macedonia. Welcome in the Macedonian New Orleans, as some might call Strumica, which is also known by its good orchestras and excellent night life, colorful streets and buildings; a city with warm smile on its habitant's faces; a city with a quite another kind of pulse and lifestyle than other cities, and a city with a unique conception of the world around it. You are welcomed, too, in Hotel Ilinden- the real jewel in the crown of Strumica hotels.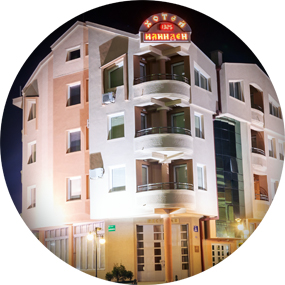 It isn't about whether we add or take something from the magic of Hotel Ilinden when saying this- it's simply just like that: the sun is being felt in people's eyes in Strumica; the sun is being found in our rooms and their decoration, sun is being felt on the faces of our stuff, and you are experiencing the sun, too, every time you come after that august sun, regardless whether you have already known it or not (you're just going to recognize it immediately and you would like to take it with you wherever you are or wherever you are going to; a sun which comforts you deep in the winter, until your next coming ...), regardless of the time you need to get back to us, because its exactly that august sun which is going to bring you right back at us!
A decent treatment is something that is rarely found and can't be forgotten, and you ought to response decent on such treatment.
We will show you that we can offer more- not to take more from you, but to give you the one which can be found only in a quite few places: warmth and kindness, and we only ask from you is to spread the good word for Hotel Ilinden!